Costs & Pricing For Renting Dumpsters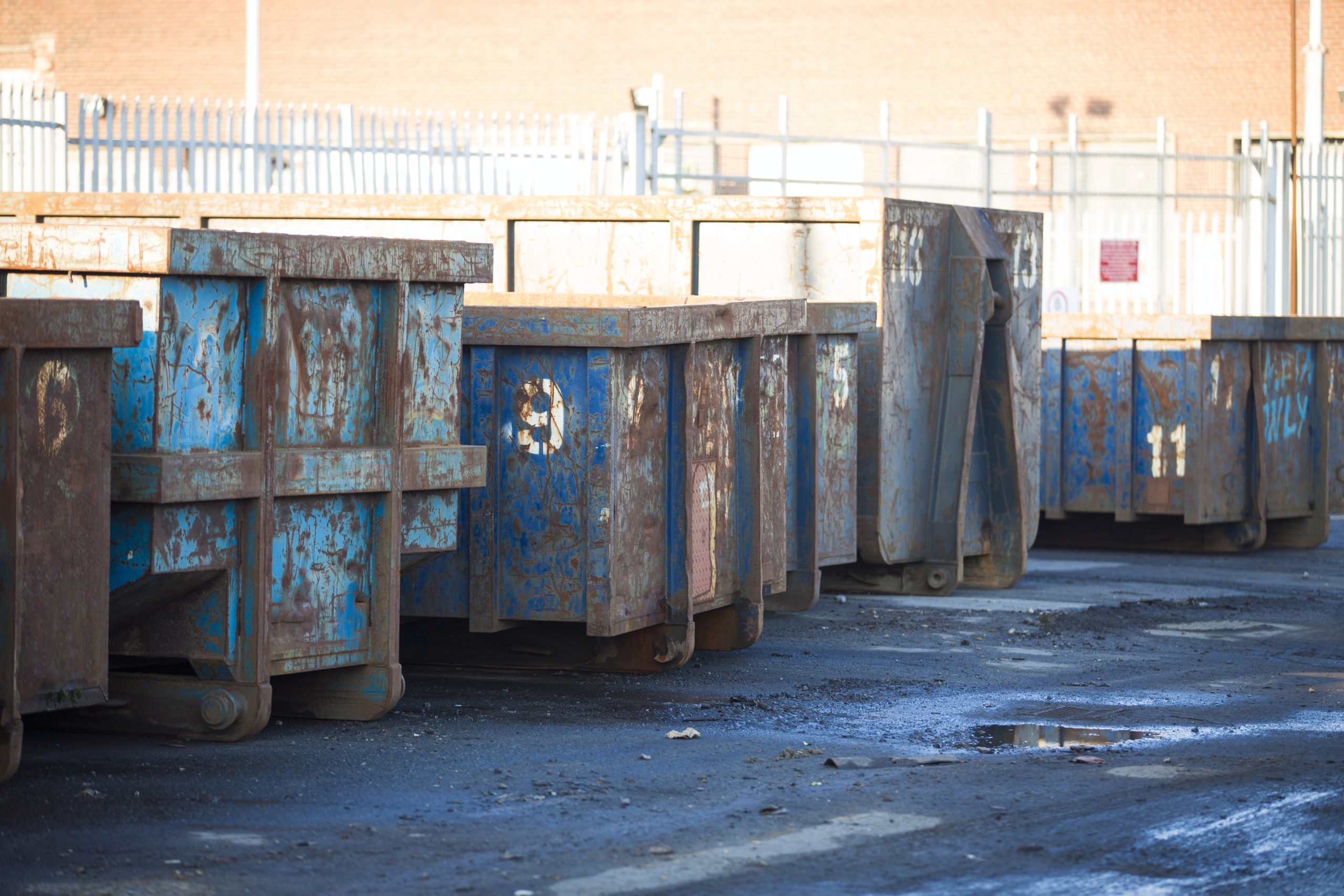 If you are looking at the national average cost for dumpster rentals it comes out to about $404. Prices in your area may differ from the national average. However, when it comes to dumpster sizes, local dump fees, and which company you rent from will have the largest impact on cost.
Container Size Average Cost:
10 yard dumpster $304
20 yard dumpster $383
30 yard dumpster $441
40 yard dumpster $488
The average cost for a 10 cubic yard dumpster`s rent is about $304; a 20 yard dumpster is about $383; and the cost of the larger, 30 yard dumpster is about $441.
Your local price may have little to do with the cost of the rentals.
For Lower Prices, you should rent Local.
There are 3 main type of businesses that can rent out dumpsters.
 Locally owned dumpster services who are independent.
 Nationwide trash companies like Waste Management or Republic Services.
 Brokers that book the dumpsters and pass the order onto a local business.
National Dumpster Services can be more expensive, and don't provide good customer service.
Nationwide companies like Republic Services and Waste Management have a good reputation for their weekly collection of trash in residential areas. For their weekly trash pickup, they are highly efficient and offer very competitive prices. But when it comes to temporary dumpster rentals it is a different story. Renting from the big guys costs a lot more than renting from a small independent company.
If you look at the 48 US metro areas local dumpster prices and compare it to Waste Management's dumpster prices. Waste Management`s average to rent a 20 yard dumpster was $524 compared to $367 from a local business. The local business was significantly cheaper than the larger companies.
Additionally, local dumpster services offer more dependable means of customer service along with competitive prices. Since the majority of the businesses are family operated, when you call in, you will most likely be speaking directly to the owner or someone who can connect you with the owner. This makes it very reliable to get questions answered as most National companies do not have direct access to owners. Overall, it's better to be routed locally than waiting on long holds for a representative across the state.
#2: Avoid High-Priced Brokers
Sometimes when you think you are speaking with a local business, you can be miss lead and in reality, be speaking with a dumpster broker. Most of the time these dumpster brokers operate from out of state and often play middleman and they do not own any dumpsters.
Dumpster brokers often appear to be local haulers, but they are actually are out-of-state middlemen that do not own any dumpsters. They take orders for dumpsters and raise prices anywhere to 10 to 20% and then pass on the order to local haulers keeping the extra cost.
Typically, in situations like this, the homeowner or the business are unaware that the booking was through a 3rd party.
Differentiating which companies are brokers and which are legitimately local can be a difficult task, but one tell is most brokers have toll free phone numbers. They also tend to use the words budget or discount. Below are a few of them:
Dumpster Brokers – Not Local, and expensive.
Bargain Dumpster
BudgetDumpster
Budget Dumpster Rental
Big Red Box
Discount Dumpster Shop
Dumpster Rental Guys
Same Day Dumpsters
Same Day Dumpster Rental
Top Dog Dumpster Rentals
There are some honest dumpster brokers that are reputable and have there is a legitimate reason to use them. In some locations, some businesses are hard to reach, especially if they do not have staff to answer the phone and could possibly a one man show. A broker can be a good way to bridge the gap between the business and the customer.
#3: Call for Quotes
There are so many factors that can affect your actual price, it will benefit you and your pockets to compare rates by calling dumpster rental companies directly. When you call, you can confirm with the company that a dumpster will be available and delivered on the date that you need. Come companies have a full schedule so it is better to call in advance. When you talk to a company directly, you can ask questions and be more informed on the process.
Questions the dumpster company may ask you
Where are you located?
When do you need delivery?
What size will you need?
What are you dumping?
How long will you need the dumpster?
Questions you can ask the dumpster company
What is the weight limit?
What will happen if I go over the weight limit? How much will it cost per ton?
How many days are included with my rental period?
What happens if I need extend the rent?
Why aren't more dumpster prices published online?
Local dumpster companies will need your location and type of debris to be able to give you an accurate quote. Why? Travel time between the company and your location will cost gas and time.
Some cities and depending on the location of your dumpster, there may be permits needed.
Depending on the weight of your dumpster, the price may be higher.
A Sampling of Local Dumpster Prices
#4: Compare Apples to Apples on Quotes
To ensure you are getting a fair deal, try to call and get quotes from 3 different places. It is not recommended to booking with the cheapest company automatically. When you call for quotes it is important to consider the total cost, the company`s reputation and their customer service.
Weight of Your Debris May Change the Price
When you a rent a dumpster, there is a set weight limit that is included with the price you are going to pay. If you are wondering if it includes the weight of the container, it does not. So, you do not have to worry about the dumpster weight itself. If you go over the weight limit that was given to you, you will have to pay a fee for the excess weight. These fees are assessed after the dumpster is picked up and brought over to the landfill and weighed. Some customers are surprised to receive additional fees, so make sure that you try to stay under the limit.
The largest factor in your quote will be the cost for the company to dump your load in their landfill. The dumpster company has to pay the landfill based on the weight of your debris. Let's say the landfill fees are about $50 per ton and the weight of your debris are about 5 tons, the dumpster company will pay the landfill $250 dollars and that fee gets assessed to you.
The dump fees will change depending on the region you are in. Here in the United States, landfill disposal fees can range from $30 to $100 dollars per ton. If you live in a region with high landfill fees, the cost to rent a dumpster will be higher no matter what company you use.
Comparing Price Quotes
When you look at the quote for your dumpster, the price will usually include a certain weight limit. When your debris is taken to the landfill, it is weighed. If it weighs more than the amount included into your quote, you will be charged for the extra weight.
Company A – 10 yard dumpster
• $250 with 1 ton of weight included (2000lbs)
• $50 per ton over included weight
Company B – 10 yard dumpster
• $275 with 2 tons of weight included (4000lbs)
• $50 per ton over included weight
If you look at these 2 companies, you want to take inconsideration different factors that may help you save money. If your throwing away a light load of household junk and it weighs in at the landfill at 1 ton, company A would be the most cost effective. On the other hand, if you are disposing heavier debris from a demolition and it weighs in at 3 tons, your final cost with Company A would be $350 since it was be overweight. The final price for Company B would be coming in at $325 which is 25 dollars cheaper since the weight limit is higher with company B.
#5 Watch out for dumpsters that are too small.
The cost of a dumpster will change with the size with the container you choose, so it can be smart to choose the smallest dumpster that you need. This can also backfire on you if you select a dumpster too small for your load.
If you rent a dumpster that is too small, it is possible that you can pay double the amount to rent the dumpster twice. So, keep in mind that the size of the container may cost you more if you are trying to save a buck.
10 Yard vs 20 Yard.
If you are debating between a 10 yard dumpster that will cost you 300 and a 20 yard that will cost you 380, and choose the 10 yard to save money, there could possibly be a problem if you fill that dumpster, and you have a lot of debris left over. So, the only option you have now is to pay for another 10 yard dumpster after getting the filled one up hauled away, costing you double.
The most cost-effective approach would have been to rent the 20 yard dumpster from the beginning. Even though the dumpster had the same capacity as the 2 that was rented, it would only have cost you $80 more rather than paying $600 dollars It may be beneficial to only choose the smaller dumpster if you are fairly confident the smaller dumpster has enough capacity.
#6: Try to Donate or Sell Before Loading the Dumpster.
If you have items you are going to put in your dumpster that may still be put to use, consider in having a yard sale or donating your items to a local charity. By doing so you can save money and possibly even earning more money and at the same time, you are eliminating bulk and weight that will be going into your dumpster.
Here are a few great places to consider selling, trading, or donating your used goods:
• Offer Up
• Craigslist
• Goodwill
• The Salvation Army
#7: Share with a neighbor.
Everyone has items that they can get rid of in their home.
You can let your neighbors know you are planning to rent a dumpster and see if they are interested in sharing the dumpster as well as the cost. This will help you save money, and also help your neighbors out too.
We can help you find a dumpster rental company near you, click below: