Dumpster Rental Guide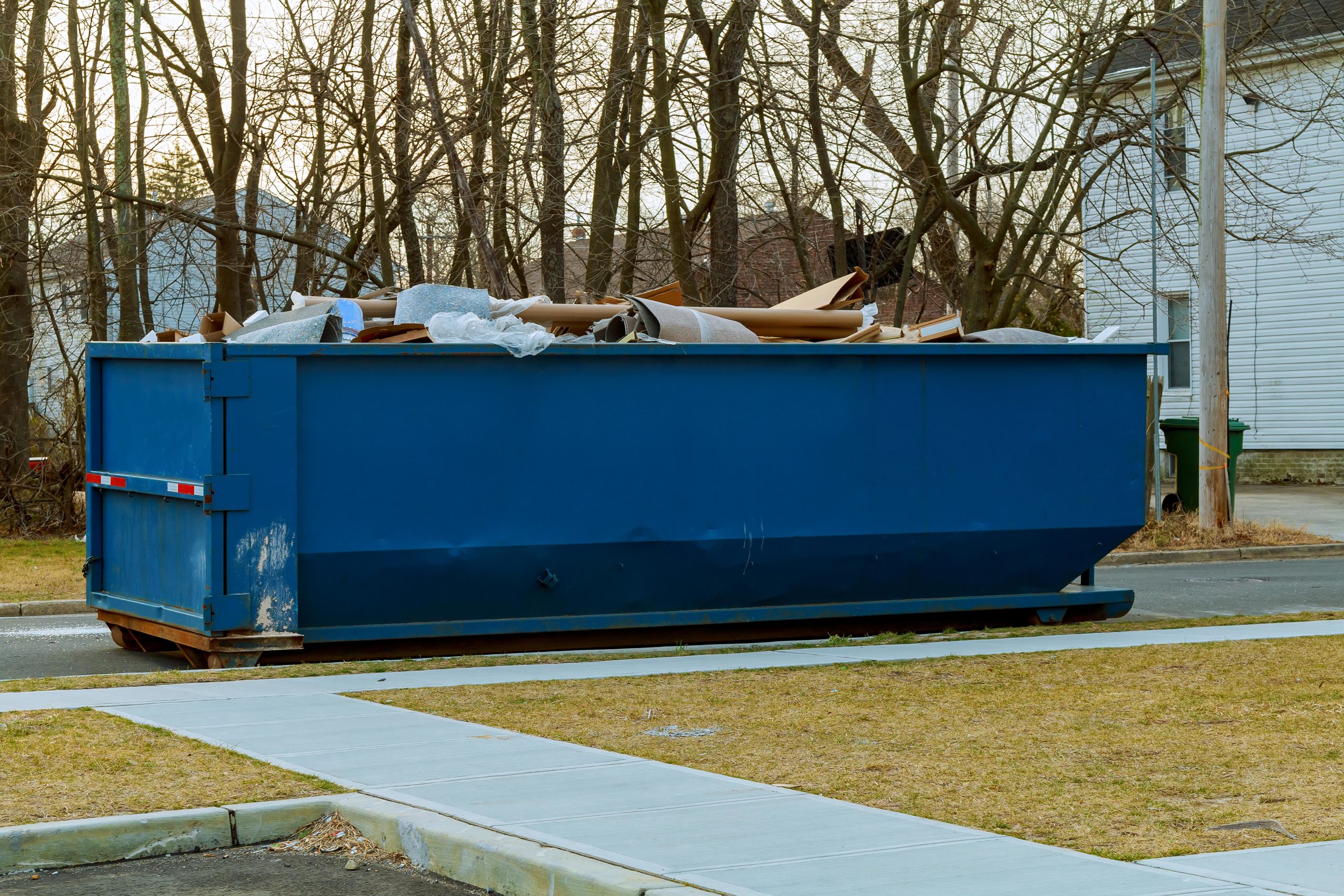 Being a first-time dumpster renter may seem intimidating, but it is very simple. It takes only minutes to set up an appointment to get your dumpster delivered, but to fully understand the process and feel informed here are some key points:
It might seem overwhelming because there are hundreds of different companies to choose from which includes various dumpster sizes, disposal fees, and rental periods.
We provide a dumpster guide that has many outlines raging from: how to set up an appointment, different dumpster sizes, pricing, how to properly load the dumpster, and everything else you need to know to ensure you feel confident in your rental experience.
Roll-off Dumpsters:
Their dumpsters are made up of swinging doors on one side which will make loading heavy and bulky items easier. The bottom of the container has feet or rollers that are placed on top of wooden planks to keep your driveway or street from getting damaged.
Dumpsters are transported with a truck onto your property by a pulley system with large hooks shown above. The same process will be used to pick up the dumpster once the rental is completed.
Dumpsters are very underrated when it comes to waste disposal because people don't realize how useful they can be. People typically use dumpsters to getting rid of waste from a home remodel or major a cleaning, but there are several ways dumpsters can help. Here are couple ways a roll-off container can help you with your project.
Clearing out a garage, basement, or attic.
Spring Cleaning.
Decluttering of rooms.
Yard waste removal.
Construction projects such as roof replacements or repair projects.
Kitchen or bathroom remodeling projects.
Replacing windows or doors in your house.
Differences between Construction Dumpsters vs. Trash Dumpsters:
Commercial business dumpsters are also commonly known as trash dumpsters. These dumpsters are usually found behind apartment complexes, grocery stores, gas stations, retail shops, or behind any commercial businesses. They have a regular scheduled pickup just like residential areas do.
Commercial dumpsters are smaller and carry 2 cubic yards to 8 cubic yards of waste.
They also have an attached lid to prevent rain or snow to fall in. The lid also helps to control pest from coming in and bad odors from escaping out. These dumpsters are rented by businesses permanently and are picked up on a regular schedule ranging from every month to every week.
Trash Dumpsters are also commonly known as construction dumpsters and are typically roll off dumpsters. They can be used for many other things and not just for construction. It is an ideal solution if you are in need of something larger than a trash dumpster temporarily.
Construction dumpsters are typically bigger than commercial dumpsters holding 10 cubic yards to 40 cubic yards of volume.
Construction containers have their top open and they are typically rented on a temporary basis.
They are excellent for:
household junk, garage or basement clean out.
Roof replacement.
Yard waste.
Demolition waste.
Dumpsters come in a variety of sizes and are measured by cubic yards to specify its capacity.
Displayed above are commonly used dumpster sizes and their dimensions to help better assist you with your project.
Keep in mind when deciding between a smaller container or larger one that if the smaller container is overfilled. It can lead to additional costs because you may have to rent an additional dumpster.
For example, if you're doing a roofing project, it can be easy to determine the total amount of dumpster space needed for roof tiles, but it can be tricky estimating how much construction or junk in your home that gets piled on. Especially when you have the dumpster conveniently on your driveway, you may want to remove more items than originally planned. So sometimes it's best to overestimate the amount you have rather than underestimate it.
See below for our dumpster size charts and what they are commonly used for
5 – 10 cubic yard dumpster:
Small garage, attic, or basement cleaning
1,500 sq. ft. of tile
250 sq. ft. of decking
Small bathroom or kitchen remodel
15 – 20 cubic yard dumpsters:
Small-to-medium basement, attic, or garage cleanups
Large flooring or carpeting removal
300 – 400 sq. ft. of decking
2,500 – 3,000 sq. ft. of roofing
30 – 40 cubic yard dumpsters:
Large quantities of demolition waste, debris, or cardboard.
Office building remodels or clean out.
Construction for a new home.
Garage demolition or remodel
Whole home window replacement.
Commercial roof replacement
Large home add-on debris
Find the best price.
While prices will increase depending on the size dumpster, there are many pros and cons that can factor into the price.
As we talked about earlier, trying to save money on size is typically not the way to go. It will cost more to rent two 10-yard dumpster than renting one 20 cubic yard dumpster. We highly suggest going up a size when uncertain.
Different type of debris:
It may vary where you're located and what type of waste management are near you, it may save you some money to recycle your debris there first as removal fees are less expensive.
Debris Weight:
Most rental contracts will have a weight allowance, that will be included into the price. You may receive an additional charge if you exceed the weight allowance. The type debris you have can affect the weight, so it is important to keep weight in mind.
Typical household junk will be lighter than concrete, roofing shingles, or large construction debris. Estimating the volume of debris exactly can be very challenging, its best to get pricing from different companies to determine who can give you the best quote. That is why Temporary Dumpsters is effectively the best choice because we make it effortless by gathering all quotes and verified reviews all in one place.
Terms and conditions of dumpster rental:
To avoid being surprised by any additional fees or charges it's important to read the terms of the contract, and fully understand it. This will reduce any confusion before renting your dumpster to ensure a smooth transaction.
Questions to ask the company before booking a delivery:
Who will be responsible for collecting the dumpster when the rental period is over?
Would I need to call in or would someone automatically come?
Even though some dumpster companies will come automatically at the end of your rental period, it's best to call ahead as soon as you're done with the dumpster so that your junk can be hauled away sooner.
What types of materials are prohibited in the dumpster?
Depending on the dumpster company, each company can be different. For example, if you have construction debris like cement, you should ask if you can mix it with your household junk. Never assume that mixing different materials will be okay because the additional weight and overage fees are not worth the headache. The company will find out, and pile on additional fees.
How much weight is included in the rental price?
Majority of the companies require a payment prior to delivery of the units; so, asking for the weight is important. Make sure you don't go over the limit to avoid paying the difference as this can add up very quickly. Some companies could take weeks after the dumpster has been hauled away to inform you of your overage charges.
What happens when scheduling a delivery?
After receiving quotes from different sources and settling for one that best suits your needs and your wallet, it's time to schedule a drop off date and time for your dumpster. Once the dumpster arrives, make sure to lead them in the direction you want the dumpster placed. The contractor would then place wood planks underneath your dumpster in order to protect your property from any damages. He will then organize it in a way that would be easy for you to access the container.
Summertime is the prime time for dumpster rentals because of warmer weather, so to ensure your unit will be available make sure to arrange it in advance.
How to load your dumpster?
The dumpster contractor will set up the unit so that the doors can be opened all the way back as pictured above. This will make loading heavy items a lot easier.
Be sure to follow the guidelines to what can and can't go in a dumpster.
What is acceptable in the dumpster?
Almost anything can be considered general waste and can go in the dumpster. Items may include but not limited to, household junk, clothing, paper products, and furniture. However, some materials are only allowed in the dumpster if they are the only material in the dumpster. These items will include concrete, drywall, wood, dirt, rock, and roofing. There may be a discount when loading your dumpster with these "clean loading" items so check with your company before you rent.
What is not acceptable in the dumpster?
Hazardous waste or liquids are not allowed. This also includes, food waste, televisions, refrigerators, computer monitors, paint, batteries, contaminated soils, fuels, resins, railroad ties, adhesives, asbestos, and solvents.
If you feel that you may have these hazardous or unacceptable items, you should contact your company because they might have other options. You can also contact your local county office to be guided to the right place to bring these items.
What to do once I'm done with the dumpster?
If you are finished before your pickup date, you can call your company and arrange an early pickup. When they arrive, they will hook your dumpster and pull it back onto their truck the same way they dropped it off as illustrated below.
What are things to avoid?
The number one thing customers do that can hurt them is over filling the dumpster. So, to ensure a smooth pickup, make sure there are no debris or objects around the dumpster so that the truck can easily access it. If you're not home during pick up time and there is something in the way, like a car, you may be charged an additional cost known as "trip charge" because the driver was not able to pick up the dumpster, and had to go back.
Also, there may be a charge if the dumpster was over filled and the driver had to dig out your dumpster delaying his schedule.
If you need help finding a dumpster rental company near you, click below: